Novelis PAE offers the innovative PDBF® Deep Bed Filter for integration into its own casting lines as well as those of other manufacturers. Thanks to the design of the bed and its unique heating system, this type of filter ensures premium metallurgical quality and high filtration efficiency, even for small-sized particles. Such a filter admirably meets the demanding requirements of high-end products, such as beverage cans and lithographic sheets, and those of aerospace applications.
PDBF® filtration efficiency
In this type of filter, the liquid metal flows through different layers of calibrated alumina balls and grits that capture more particles, even the smallest. Thanks to Novelis PAE's expertise in designing and implementing this type of filter, filtration efficiency exceeds 95 % for particles over 10 microns in size.
Efficiency decreases with decreasing particle size, but remains higher than other technologies at all particle sizes, as shown by the following by the comparative graph below.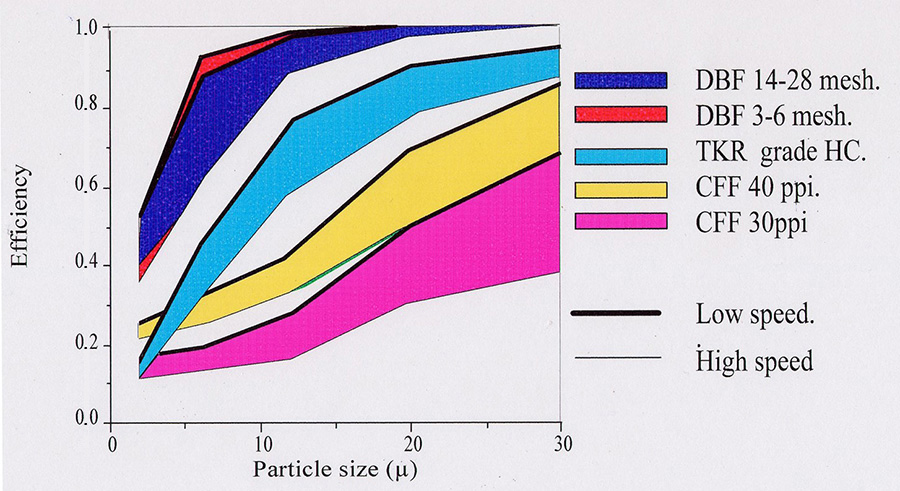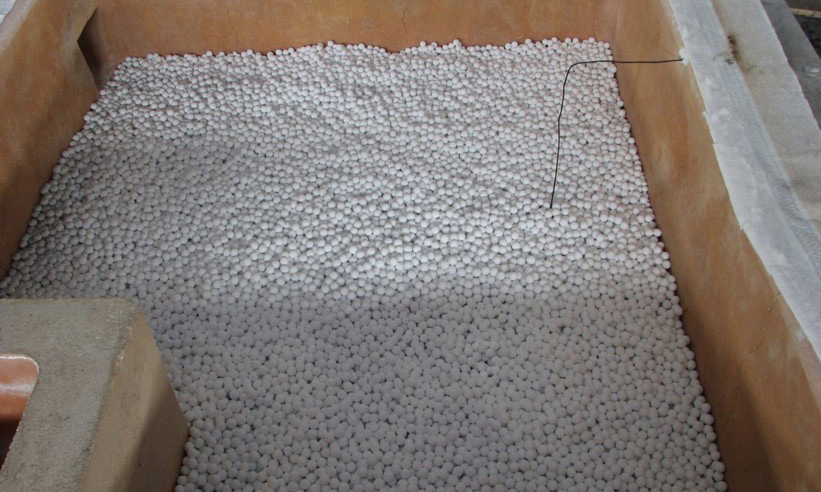 PDBF® unique heating system, efficient thermal insulation and strong static capacity
The PDBF® filter benefits from a unique heating technology, which guarantees a uniform temperature for the whole filter, including the filtering bed, and the liquid metal.
This advanced heating system incorporates:
several electrical radiant tubes in the lid, with air convection system

mini-heater(s) immersed in the metal, below the bed
Heating at the bottom of the vessel (which is not offered by other technologies) avoids any risks of overheating the melt surface.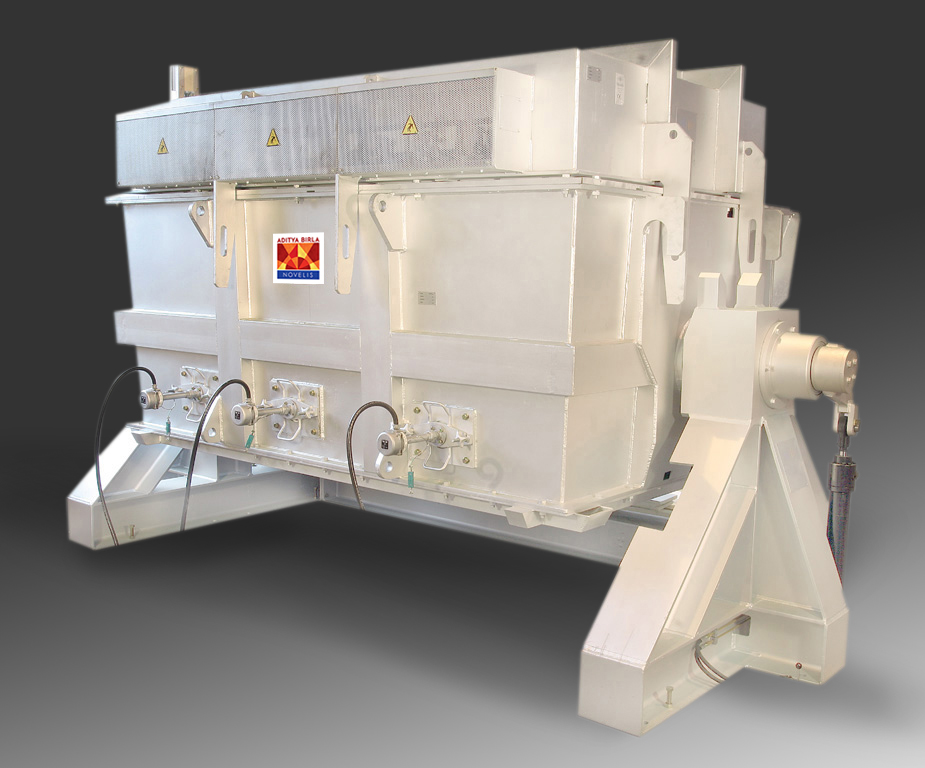 The thermal insulation of the vessel and the lid is provided by several layers, each made of a special material designed to minimize thermal losses and to meet the highest norms in terms of safety and energy saving.
In addition, the strong static capacity facilitates start-up and provides the liquid metal and the whole system with significant thermal inertia. 
The above-mentioned features ensure the appropriate priming of the filtering bed as well as the uniformity and stability of the liquid metal temperature from the inlet to the outlet of the filter vessel.
PDBF® layout and associated stations
The PDBF® filtration system typically consists of the following stations:
One PDBF® Deep Bed Filter unit installed under the "in line" casting operation

One tilting station where the PDBF vessel is temporarily positioned to cool before being emptied by dropping the bed and the grids (when their lifetime is over) into a container. The inside of the vessel is then cleaned.

One pre-heating station where the PDBF® unit is firstly equipped with a new bed and set of grids, and then pre-heated. When the system includes two PDBF® units, one is placed under the "in line" casting operation, while the other is placed under the "off line" preparation processes (emptying, cleaning, pre-heating, etc…), so as to avoid any idle time.
PDBF® models
 
 

5

15

20

35

55

90

Max treatment
capacity (tons/hour)

8

15

23

36

59

90

Lid heating power (kW)

18

30

45

60

84

126

Bed heating power (KW)

9

9

9

18

18

27
What you get
when you choose
the Novelis PAE
PDBF® Deep Bed Filter:
The product of a wealth of experience and technological leadership
Novelis PAE's ability to design and supply the whole casting line (located downstream of the holding furnace): degasser, filtering unit, launder system, casting machine
60 years of experience serving aluminum casthouses
Unique engineering know-how to match your specific needs and requirements
Technological advantages, resulting from our first class innovation policy
Extensive operational experience and a real understanding of the needs of users, helped by the fact that our own group is among them
First-class customer support and service worldwide