For more than 50 years, Novelis PAE has supplied state-of-the-art casthouse technologies, equipment and services to aluminium and non-ferrous industries worldwide. Its expertise covers both liquid metal treatment (degassing, filtering and grain refining) as well as the casting process from liquid metal into solid strips, slabs or billets.
The equipment range includes:
Horizontal continuous twin roll strip casters: JUMBO 3C®, 3CM®

Vertical Direct Chill slab and billet casting machines and their automation system AUTOPAK®

In-line molten metal degassers: ALPUR®, JETCLEANER®

In-furnace metal treatment systems: IRMA®

In-line molten metal filters: PDBF®, CFF.
Based in Voreppe, France, in a region where the aluminium industry began in the early 20th century, Novelis PAE is world renowned for its remarkable innovations in aluminium casting.
In the 1970s, Novelis introduced the first automatic DC casting control system, AUTOPAK®, enabling safe "hands off" operations thanks to its capacitive metal level sensor.
Combining engineering expertise, strong processing know-how and a solid metallurgical background, Novelis PAE is admirably positioned to provide the optimum solutions expected by his customers.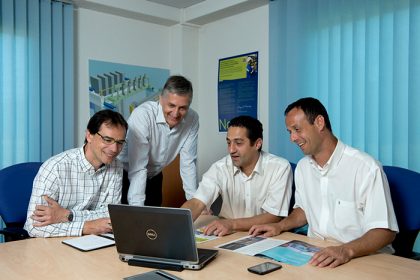 Novelis PAE is part of the Novelis group, a global leader in rolled aluminium products and the largest recycler of aluminium in the world.
Novelis is a wholly owned subsidiary of Hindalco Industries Limited, one of Asia's largest integrated producers of aluminium and a leading producer of copper. Hindalco is the flagship company of the Aditya Birla Group, a multi-national conglomerate based in Mumbai, India, with operations in 36 countries.
With a production background, and in some cases, experience as former users of Novelis PAE equipment, our engineers are able to recommend the most suitable solutions.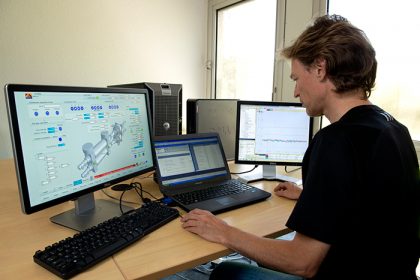 Customized design
Working closely with our process engineers, our Design Office defines the ideal configuration for an existing casting line or a green-field project, including casthouse capacity, layout, utilities, metal flow, ancillary equipment and the best liquid metal treatment solutions.
Project management
The successful completion of our customers' projects requires careful planning from the preliminary engineering study through to final commissioning. A dedicated Project Manager ensures coordination between the different actors throughout construction and guarantees that production start-up will be on schedule.
After-sales support
Delivering equipment is not all we do. Our collaboration with our customers extends beyond the period of guarantee. Our After-sales department will rapidly meet demands for spares and consumables, and our experienced engineers will provide customers with any operating assistance required.
Continuous improvement
The goal of Novelis PAE project teams, engineers and design office technicians is technological excellence. By continuously improving its technologies, Novelis PAE is able to develop innovative solutions that are best suited to customer production needs. Furthermore, a rigorous management system complying with environmental, health, safety and quality standards, has enabled Novelis PAE to obtain the triple certification ISO 9001, ISO 14001 and OHSAS 18001 from Bureau Veritas Certification.